*some ventilators may qualify for Homeland Security Grant Money
* CAREvent® Automatic Transport Ventilators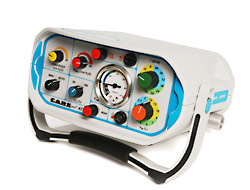 CAREvent ATV+
CAREvent MRI
The CAREvent® Automatic Transport Ventilators are lightweight, portable, durable and simple to use, control module style, automatic time/volume cycled ventilators. They are completely pneumatic (no batteries required) and deliver breath by breath consistency in delivered tidal volume, frequency, inspiratory/expiratory times and flow rates. This consistency is not achievable with a bag-valve-mask resuscitator and prevents gastric inflation and high intrathoracic pressure.

Features
Demand Breathing for the spontaneously breathing patient
Manual Override Ventilation to supplement automatic ventilations if required and activate delayed cycling when a 30:2 CPR protocol is being performed.
Flexibility in breath volume and frequency delivery to ventilate patients from 5 kg. to large adults (note ALS+ suitable for patients from 15 kg.)
CPAP to provide non-invasive treatment for patients with CHF, COPD and PE. This provides one space saving device for oxygen therapy, CPAP treatment, resuscitation and ventilation (ALS+, ATV+ and MRI).
Auto Cycling Shut-Off and Re-Start to synchronized ventilation for patients moving in and out of respiratory arrest. Note: In the child settings the inspired flow rate of the patient may be insufficient to cause the Automatic Circuit Shut off to function.
Airway Pressure Gauge to provide visual monitoring of the patient and ventilator settings.
An Audible and Visual Low Gas Supply Warning.
Audible and Visual Indicator for a circuit disconnect or when delivered tidal volumes are insufficient (ATV+ and MRI)
Guideline 2000 and Guideline 2005 Versions Available
Specifications
---
*some ventilators may qualify for Homeland Security Grant Money
Micro RPM
| | |
| --- | --- |
| | The Respiratory Pressure Meter is a new hand held device for the assessment of respiratory muscle strength and features a clear digital display of either expiratory or inspiratory pressure measured in cmH2O. Combining both accuracy and simplicity at an economical price the Micro RPM is eminently suitable for use by all healthcare professionals. |
Features
Small, lightweight and portable. Competitively priced and supplied complete with all necessary accessories. Easy to use. Provides digital display of both expiratory and inspiratory pressure. Minimal maintenance and easy to clean.
Solid state transducer for accuracy and long term stability.

Customer Benefits
The RPM utilizes the latest piezo resistive pressure sensing technology to achieve accuracy and long term stability in a simple to use hand held unit. The sophisticated electronics calculate the maximum effort sustained for at least one second and display this result in cmH2O.

Ease of Use
The strength of the respiratory muscles may be easily measured and displayed on the easy to read, liquid crystal display. The transducer assembly is simple to remove for cleaning to allow a high level of hygiene at all times. The complete unit and accessories are housed in a rugged carrycase for use anywhere.

Design Innovation
An ergonomically designed unit of distinctive appearance. The textured handgrip encourages easy and reassuring use for both adults and children. The Micro RPM is small and lightweight and is moulded from high impact ABS for durability and is virtually maintenance free.


Specifications
---
*
Bio-Med Devices Crossvent 4 Ventilator
"A Breath of Fresh Air"
Ultra compact, the Crossvent 4 (CV-4) portable ventilator is designed for use with infants to adults and may be used in the ICU, recovery room, or ER, as well as for all transport applications.

With its built-in battery, supplying 15 hours of operation, the CV-4 will handle the rigors of transport whether by helicopter, ambulance, or in-house transport. The optional air entrainment feature offers 50% oxygen concentration while substantially reducing patient oxygen consumption.
*some ventilators may qualify for Homeland Security Grant Money
* Bio-Med Devices Crossvent 3 Ventilator
"A Breath of Fresh Air"
CALL TODAY FOR SPECIAL PRICING!
Features:
Automatic alarm set-up
Separate adult and infant modes
Continuous flow for infants
Pressure support
Nebulizer
Test menu
Calibration menu
Options:
Exhaled tidal volume monitoring
Blender
Air entrainment
Waveform screen
Lung mechanics
Specifications/Display Menus
---
*some ventilators may qualify for Homeland Security Grant Money
*Bio-Med Devices IC-2A
| | |
| --- | --- |
| | The IC-2A is a compact, pneumatically-driven ventilator designed specifically for pediatric and adult care. Its proven durablity makes it an exceptional choice for transport care. It is also available for MRI. |
Features:
Totally Pneumatic
Lightweight
Independent Inspiratory and Expiratory Controls
Inspiratory Effort
PEEP, CPAP, IMV
Volume or Pressure Ventilation
Low Cost
Low Maintenance