Philips Defibrillators Available
Call for Pricing


The new Powerheart® AED G3 continues to feature industry leading one-button operation and RescueReady® technology featuring patented daily, weekly, and monthly self testing, assuring consistent performance. The Powerheart AED G3 also incorporates advanced technology features such as patented and programmable RHYTHMx® analysis software and STAR® biphasic defibrillation energy waveform.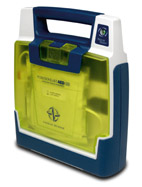 ---
Welch Allyn PC-Based Resting ECG

Features:
Retrieve previous records with the touch of a key - no more digging through paper files looking for the right information.
On-screen review and editing of diagnostic tests.
Database stores hundreds of thousands of test records
Access information from exam rooms or your office, virtually anywhere across your network.
Fax reports directly for consults
Copy and paste ECG strips e.g. into Microsoft Word or Email
Integration with other patient information systems (e.g. billing, medical record)
A vital component of any HIPAA compliant program
Admin functions
- Use passwords to control staff access
- Assign/limit tasks, e.g. only a physician can edit an interpretation
- Database maintenance
- Backup utilities


The Welch Allyn PCR PC-Based Resting ECG's turn any PC into a full-featured electrocardiograph. Intuitive Windows operation makes it easy for your staff to learn and use, while the power and features of a PC-based system will save money and increase utilization of existing equipment. With its ability to connect with leading EMR systems, you'll be able to spend less time with your paperwork and more time with your patients.

The Welch Allyn PCR PC-based ECG are a part of the Welch Allyn CardioPerfect Workstation software. The Workstation is an electronic database for diagnostic records providing efficiency and connectivity. Combined with other Welch Allyn diagnostic modules, the Welch Allyn CardioPerfect Workstation gives complete access to all diagnostic tests for each patient.




---
Schiller AT-2I's as low as $2395
AT-2i

Why compromise performance and reliability, when you can have it all in one affordable ECG System?

The AT-2 is a low cost ECG system with performance features previously only available in high priced systems. The AT-2 provides 8 ½ x 11 reports within seconds - at the touch of a button.
The system features a powerful, built-in rechargeable battery which can generate over 400 reports. Optional are an automatic measurement and interpretation program as well as a trolley.

6/12-channel ECG

Features:

6/12-channel representation of all 12 simultaneously acquired leads
Automatic and manual mode
Full size 8½" x 11" reports (A4)
Integrated rechargeable battery lasts for up to 400 recordings
Single button operation
Computerised ECG interpretive program
Accurate measurement program
Portable at only 4.8 kg / 11 lbs


CARDIOVIT AT-2i plus

CARDIOVIT AT-2 plus - TWO in ONE!

World-recognized ECG technology with the highest standards in Spirometry

Features:

Alphanumeric keyboard
6/12 channel representation of all 12 simultaneously acquired leads
Pulmonary Function Testing for FV, FVC, MV and MVV
Large, high resolution backlit monitor for easy preview of ECG quality and Spirometry curves
Pacemaker detection
Automatic and manual mode
Full size 8½" x 11" reports (A4)
Integrated rechargeable battery lasts up to 3 hours of normal use
Single button operation
SSF SCHILLER Smoothing Filter
SBS SCHILLER Baseline Stabilizer
Computerised ECG interpretation program including accurate measurements (optional)
RS-232 interface for data transmission to PC

Download AT 2 plus Brochure Page 1
Download AT 2 plus Brochure Page 2

CARDIOVIT AT-2i light

Schiller's new AT-2 light offers the economics of a low cost unit with many of the high end features needed to care for your patients. This is the perfect product for a small office that wants to offer more for their patients. The AT-2 light is a 12-channel ECG system offering battery operation of up to 6 hours, full size (8 1/2 x 11) reports to fit patient records, LCD screen and keyboard for easy entry of patient demographics and the option of interpretation.

Features:

Alphanumeric keyboard and big LCD for user friendly operation
6-channel print-out in real time at 5, 25 or 50 mm/s
8 ½ x 11 printouts
Automatic print-out function for 6 and 12 channels
ECG Interpretation program including complete measurement for adult and paediatric
Battery operation

*actual product picture not shown
---
QRS EKGCard
As Low As $1995

---
Koko Rhythm ECG Recorder
Everything you need for portable, inexpensive and accurate ECG recording is now available in a PC-based system.
The power of Koko Rhythm is in the simplicity of the hardware and the versatility of the software. This 12-lead ECG recorder applies the latest patient isolation technology in a durable plastic cable. Real-time monitoring display enables you to view the 12-lead readings before and during the recording session.
Additionally, the optional MEANS interpretation (Modular ECG Analysis System) is ranked among the best in the world for full morphology and rhythm analysis.
12-lead ECG recorder
Real-time monitoring display of actual recording
Latest patient isolation technology using plastic fiber optic inferred connections
Data-compression allows for unlimited file storage
On-screen serial comparison
Reports printed on standard office paper
Opitional interpretation using MEANS (Modular ECG Analysis System)
Optional vectorcardiograms
Easy to use software with on-line help





For complete cardio-pulmonary diagnostics Koko Rhythm may be integrated with the Koko Spirometer.